Relevant media predicted in the middle of 2022 that the global vape pen market would exceed 108 billion US dollars, and China's total export of vape pens would reach 186.7 billion yuan, with a growth rate of about 35%.
This is the news obtained by the reporter at the "2022 Sixth Standardized Development Publicity and Implementation Conference of E-Cigarette Industry and the First Export Service Development Conference".
In terms of export, it is estimated that the total export of vape pens in 2022 will reach 186.7 billion yuan, with an expected growth rate of 35%.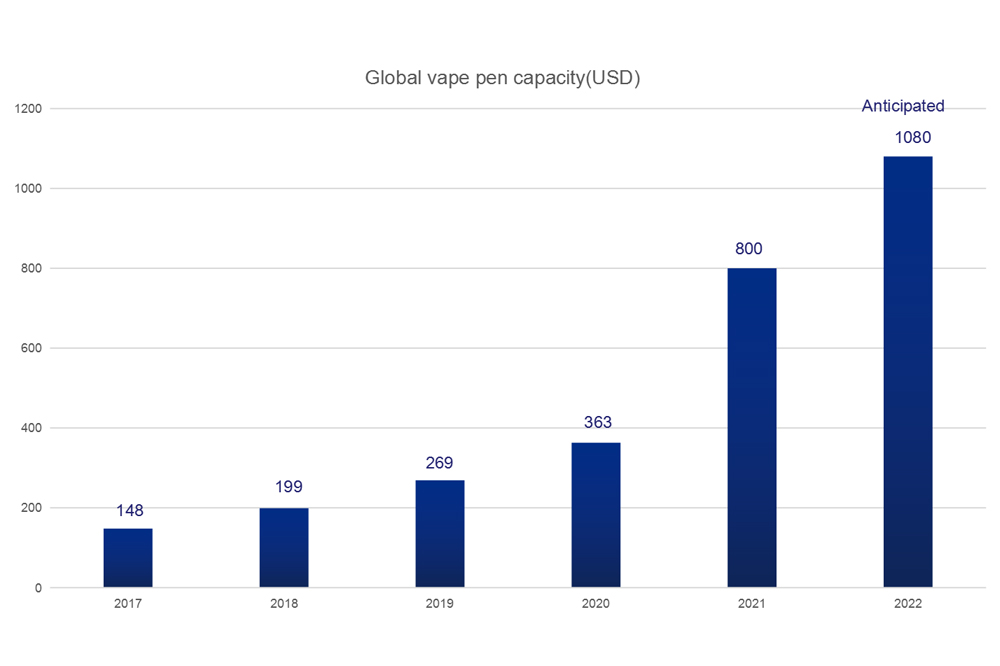 At present, there are more than 1500 vape pen manufacturing and brand enterprises, and more than 70% of them mainly export their products overseas. Nearly 100,000 e-cigarette supply chain and surrounding service enterprises
Yao Jide, Chairman of the E-Cigarette Professional Committee of China Electronics Chamber of Commerce, said that Shenzhen is the global e-cigarette industry center, bearing more than 90% of the global electronic cigarette supply.Looking back to 2021, the global vape pen market will reach 80 billion US dollars and the export will reach 138.3 billion yuan, an increase of 180% year on year. With the rapid growth of export business, the vape industry has shown its vigor and vitality, making due contributions to the country's export earnings.China's vape industry is in a critical period of opportunity. The market environment is gradually standardized, the industry standards are gradually clarified, and the underlying technology is constantly innovating. China's vape industry will continue to maintain its good development momentum in the export field, and may usher in a new round of growth.
Wu Jianyong, chairman of Shenzhen Jieshibo Technology Co., Ltd., a global giant of vape pen manufacturers, said that since 2010, Jieshibo Technology has been following the pace of the e-cigarette industry and adapting to the rise and fall of domestic and foreign market demand.
With a steady pace and rhythm, we provide the best vaping experience for consumers around the world and has served many foreign e-cigarette brands.
As an industry giant with thousands of workers, Jieshibo Technology started to establish its own brand VPFIT in 2014, and its brand quality has always been at the top level of the industry.
Compared with 2020, 2021 will increase by 50% year on year. The sales amount of the company in 2022 is under detailed statistics and will be announced in March. The author learned that the production quantity of Shenzhen Jieshibo Technology Co., Ltd. will also grow steadily in 2022.