LURE, as the third model of our Brand "VPFIT", is designed specially for the youngs and the fashionable young urban mainstream groups. In June, It comes with excellent function and exquisite appearance attracting lots of our regular clients and vapers.
Well made with solid feeling zinc-alloy body
Refillable cartridge (2ml e-liquid capacity)
Compact size and light weight
Draw-activated MTL hits
Battery level display: Green, Blue, Red
8 seconds cut-off
Multiple protection: short-circuit protection, no-load protection, low voltage protection and low resistance protection.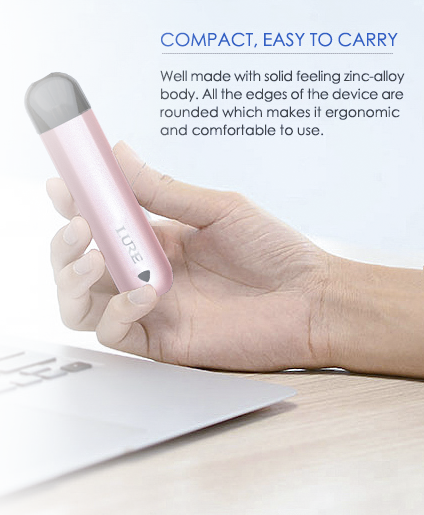 For the new generation of young consumers, they won't be satisfied with traditional brands, but need some brands fashionable and trendy to make themselves look cool. VPFIT electronic cigarette is a scientific and technological brand that grew up in the era of consumption upgrading. The production team has built a mature product line around the concept of "inspiration and health are indispensable".In order to meet the demands of non-leaking products , the VPFIT balanced the problems of oil leakage and vaping resistance on the premise of ensuring best flavor, and optimized our vaping products to the industry's optimal level.

First of all, oil leakage is a common problem in e-cigarette industry. Through structural optimization, The VPFIT team has carried out a double leak-proof design in LURE to solve oil leakage to the maximum extend. Unless external force and impact, LURE is well protected fom oil leaking issue.
Secondly, in terms of vaping sensation, the manufacturing process of some e-cigarette brands on the market is not perfect enough at present. The products on the market is very low in consistency, and the suction leakage, vaping resistance and sensation are inconsistent. The VPFIT team precisely control the consistency of the LURE through special CNC processing to ensure them match well between pods cartridge and battery body.